|

ABOUT OUR STUDIO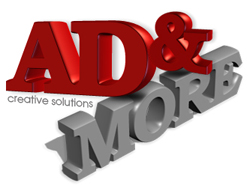 AD&MORE Design Studio is a full-service, strategy minded, client focused, sales driven, out of the box marketing agency which is specialized on every little detail about flooring. Our profession is creating custom designed web sites , logos, catalogs, brochures, fliers, business cards, pocket folders, ads for magazines, vehicle wraps, interface design, trade shows and showrooms and much more... Moreover we also provide several professional photography and print services. Let us help you & your business...
If you are seeking a unique corporate identity that is totally reflecting your company goals and mission, an attractive and effective advertisement that is achieving constant expansion of your client range and your profitability then it means you are seeking our service. When you are choosing any specialized service you need experts like us in your specific areas of need. Our profession is perfecting your company's image by providing professionally designed and highly effective marketing weapons. While joy riding our portfolio you can feel the experience and excellence in every single design made by our team.
Customer profile of AD&MORE's ranges from small start-up companies to large corporations and everything in between. Our designers are real professionals in their area so they are highly experienced to understand your company's current posture in your business area and in this way they determine what kind of design you need on which marketing tool or which type of corporate identity needs to be designed to boost your business.

Our work is not only art but also an example of professionalism at its best! It is difficult to jump from vendor to vendor for marketing needs but if you are working with ad&more design studio you don't need anyone else because we are fully capable to do all the job for you we do the design, we do printing and we deliver the final product. You will be in touch with us at every stage of your project; we will work with you and allow you to track the evolution of your marketing tools in our dexterous hands.
We are working with leading fabricators, installers, kitchen and bath remodelers, builders and distributors from flooring businessto all 50 states.